We often have the pleasure of taking on new and unusual projects. Melbury Vale Winery at the base of Foots Hill was one such project, which was a new build that had to include a number of criteria:
It must be suitable to process grapes from the vineyard into wine.
To bottle the finished wine from the vats.
To store the finished product in a secure and suitable environment.
Be accessible to the public.
Be built to conform with the Planning conditions imposed.
To be environmentally friendly and blend into its surroundings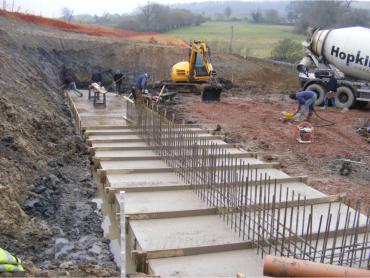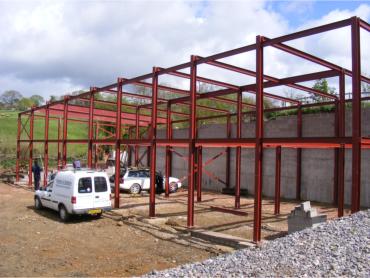 To meet the principle points above and many other criteria this made the practical design and building of the Winery a quite unique project.
CONSTRUCTION DEVELOPMENT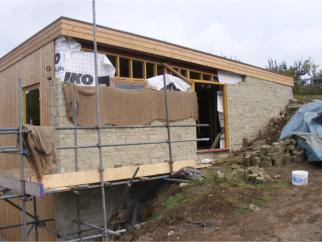 A principle planning condition was that the finished building should be built into the existing landscape so as to be at or near roof level at the rear elevation. The front to be of natural wood and the roof to be of the living Sedum variety.
Initially this required a major excavation cutting back into the hillside to a height of approx 5 metres. This to allow a level footprint of 26/10 metres for the overall size of the building.
Sequence of design
In order to retain the 5 metre high section of hill a Structural Engineer was instructed to view the site and subsequently recommended and designed a retaining wall suitable to hold back the hillside at both the rear and sides and allow the erection of a steel framed building just to the front of it.
The engineer also designed the steel structure which incorporated the compound slope of the roof line.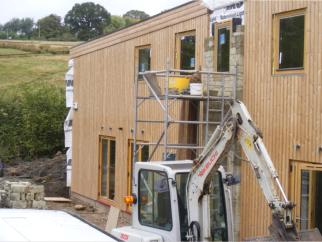 This was subsequently redrawn using Steel fabrication software in readiness for the fabricators to build.
Within the design was a mezzanine floor covering approximately 2/3 rds of the build space consisting of pre-made engineered joists capable of withstanding the intended loads.
The rest of the design elements to be worked out as the project progressed.
Order of works
Excavate the 3metre wide foot for the retaining wall this to be pegged out for a base concrete layer. Form drainage to keep site surface water free both during and atfter construction completed.
Set out shuttering and form base cage of rebar at 5" spacings in both directions.
Cast in concrete this rebar cage in sections along rear and side of building.
Once above completed, set up vertical rebar to height of 3 metres at 5" spacings both vertical and horizontaly. As point of note, 28,000 ties were fitted and fixed by hand in the construction of the rebar steel cage ! The overall weight of steel reinforceing used was in excess of 10ton.
Design, form up and fix plywood shuttering to allow 3 different concrete pours to gain the first 3metre height of retaining wall. This operation was very much a one off type of construction and the design and methodology used was devised by Andy Sturgess himself.
Set out, dig and concrete foundations for steel frame and walls to front and side. Excavate and place Rainwater harvester tank and associated drains. Backfill behind retaining rear wall and sides with soil Forming a drain to full height of rear and side walls with washed stone and gravel boards.
Get the steel frame fabricated and delivered to site. Erect steel frame onto concrete pads and Secure in place. Set out ground floor, reinforce and concrete to smooth power float finish.
Build roof in timber and sheet material to stabilise structure and form base for Sedum unit. This Being an important part of the sequence to ensure the building remained square.
Source and fit engineered floor joists to form mezzanine floor. Cover these joists with weather protected flooring.
Build inner blockwork walls and timber studwork to front to form walls between the steel frame
Finish roof line detail and apply roofing weather deck followed by protective layer, soil & Sedum type vegetation. This subsequently to be finished with a capping around all the edges.
Fit timber cladding to front and insert all windows and doors. Vertical cladding used and fixed by hand with stainless fixings to prevent future staining of the front elevation.
Lay greenstone to outer elevation detail to both ends and central elevation. This being a coursed guillotined faced stone from a local quarry less than a mile away !
Build inner block walls to form public area, foyer, wc and wine store. Plaster and second fix all doors, skirting and architrave to clients design.
Fit 1st and second fix wiring and plumbing detail to all areas along with security and cameras.
Landscape site as required to meet conditions.
Fit wine vats and associated equipment in vat room
Fit high security doors to storage area.
Arrange paint and interia décor detail
Harvest and make wine !
Conclusion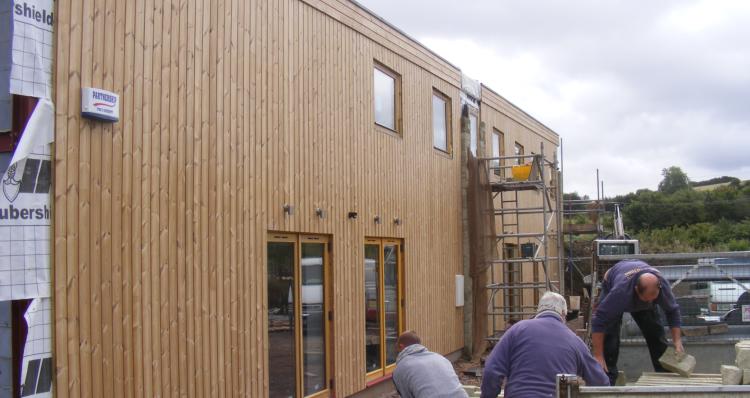 The project was a very interesting one initially with the fact that it had to be built into a clay hillside with all the associated challenges. The concrete retaining wall having to be built within a 10mm tolerance to full height to enable the steel frame to fit perfectly.
Secondly that much of the construction design detail was agreed during the duration of the project. It was a very challenging project and equally very satisfying to take to its full conclusion to an operational winery where the clients on site grapes will be processed and bottled as finished wine.
As a company we do undertake unusual and one off projects, a similar one being the construction of Compton Abbas airfield we undertook some years ago.